Kyoto is a city where everyday life and art exist closely together. Go for a short walk, and you can see Fusuma sliding doors painted by contemporary artists in a temple. On the way back to the hotel, you can wander down an alley and find a gallery showing the works of artists related to Kyoto.

   Kyoto's art scene is also very international. Last year, the National Museum of Modern Art, Kyoto, hosted the Swiss contemporary artist Pipilotti Rist's exhibition "Your Eye Is My Island" (April 6 –June 20, 2021).
The Kyoto International Photography Festival is held every autumn; it is a month-long celebration of photography and art, with exhibitions in large venues such as Nijo Castle and the Kyoto Bunka Museum (Annex), as well as in townhouses and galleries. For those who live in Kyoto, art and artists are like their neighbors.

   Kyoto is a great place for artists to stay and work, as it is full of artistic inspiration, and it is possible to find affordable accommodation through Airbnb. However, being an artist-in-residence at an art hotel in Kyoto can make the stay even more special. In this article, we will introduce you to some of the art hotels in Kyoto that offer artist-in-residence programs from the perspective of "living" in and "inspiration" from Kyoto.
Kagan Hotel where artists can live and work
   The Kagan Hotel is located in Shimogyo-ku, Kyoto, in the Tambaguchi area of the JR station, a place with rich international flavor. Every day, seafood comes from countries as diverse as Norway, Vietnam, China, and the United States, to be sold and delivered to restaurants all over Kyoto. You would see "Taray," a transport vehicle loaded with piles of food, driving around the "Kyoto Central Wholesale Market."
   Close to the Kyoto Central Wholesale Market, the Kagan Hotel, an art hotel and hostel, was renovated from a former girls' dormitory and warehouse of a fruit and vegetable wholesaler. The hotel's artist-in-residence program is residential in nature and designed for long-term stays. The hotel has rooms to stay, a production studio, a gallery, and a restaurant in addition to the shared accommodation (rent varies depending on the size and availability of furniture).
"I've been thinking about the happiness of artists since I was in primary school," says Toshiyo Kusakabe, who co-manages the Kagan Hotel with her husband (Tomoki Oogisawa). She grew up with a mother who was an artist and a financially successful painter. However, when Kusakabe was in primary school, her mother committed suicide. The tragic incident made her realize that merely making financial profit from art cannot give an artist the creative satisfaction they seek. Owing to this realization, Kagan Hotel's artist-in-residence program allows artists to design their own lifestyles.
   "For example, if a Manga artist's only goal in life is to be published in a famous cartoon magazine, is he or she happy? Should he not be allowed to call himself a Manga artist if he does not achieve that goal? An artist should not only be someone who creates art and is commercially successful. I hope that in the days you spend at Kagan Hotel, you will find a way to live happily as an artist in Kyoto and give wings to your creativity" (Kusakabe).
   Kusakabe's words put an emphasis on the "wellbeing of artists." Kusakabe sees artists not only as people of isolated and limited talent, but also as people with general professions who can find business opportunities in society. The Kagan Hotel provides an opportunity for artists to develop their talents as artists in residence and lead a balanced social life in Kyoto while making the most of their professional skills.
   As with most artist-in-residence programs, artists are interviewed before being accepted into the Kagan Hotel. A characteristic feature of the interview is the question about the artist's life plan. The uniqueness of Kusakabe's job lies in listening to the artist's creative concept and suggesting what kind of lifestyle the artist could lead at the Kagan Hotel, while sorting out their short, medium, and long-term goals.
   The first challenge for young artists is to find a place and time to work. Many of them are graduates of art colleges and universities, but it is very difficult to create a community outside of school. We started the Kagan Hotel as a real estate project to solve this problem for young artists" (Kusakabe).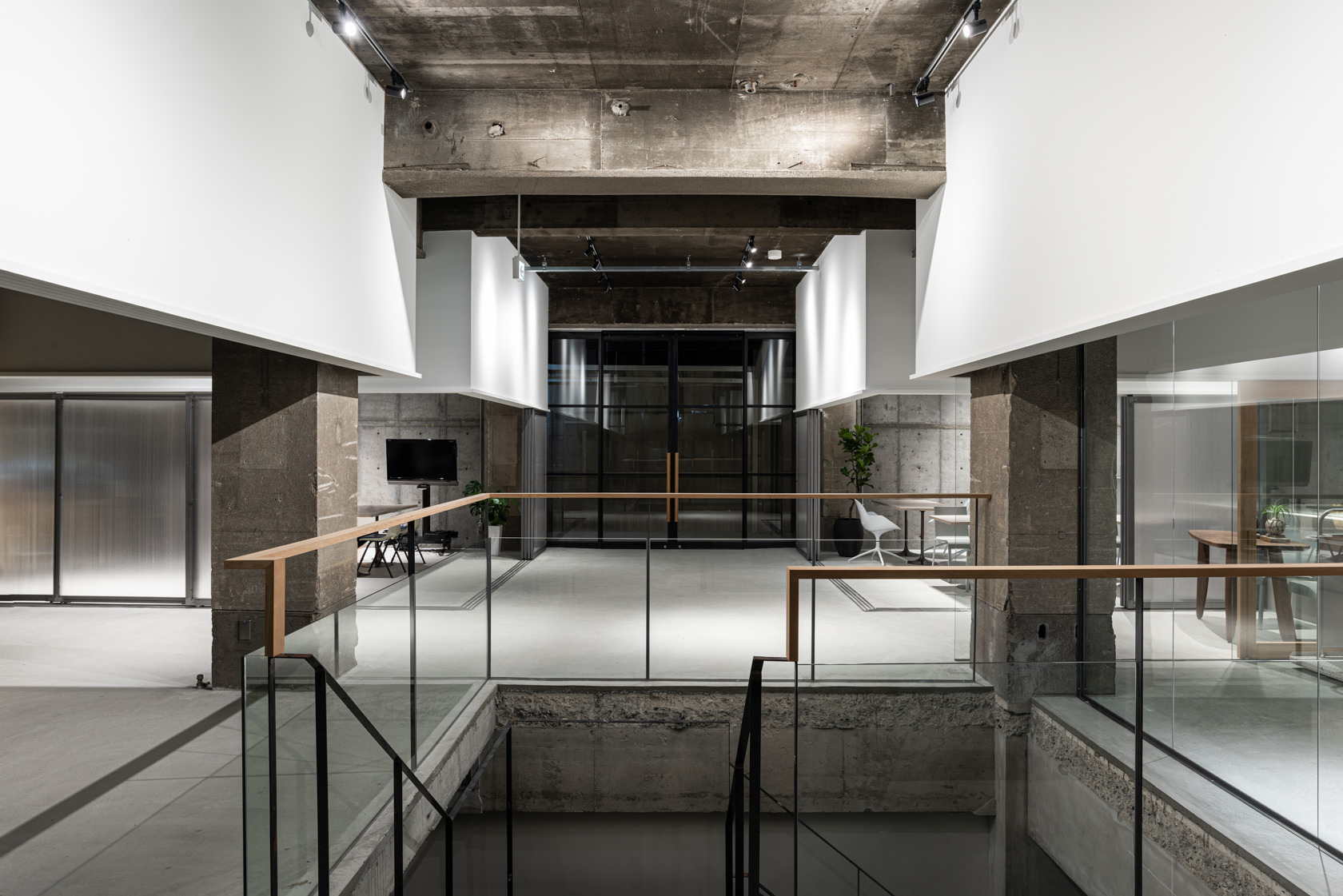 The reason for taking the form of a hotel is to be able to "create work for artists" and "create a situation where artists and art lovers can easily gather" at the same time. For this reason, Kagan Hotel has also taken into account the price of a long stay in the hotel, where artists can secure a space for their work for the rent of an ordinary flat. In addition, by making it a hotel, it is possible to expand internationally. The Kagan Hotel is visited by artists and art lovers from abroad. By introducing Kyoto artists to the hotel, Kagan Hotel can create job opportunities for them, as well as create opportunities for young international artists to stay and work in Kyoto.
   "We sometimes hire artists for part-time or full-time positions at the hotel if there is a match with what we are looking for. Our first employee was an American artist. Since April, we have had a new graduate who is fluent in English and joined us as a member of the cafe/hotel management staff. The area around the market is very Asian in a good way and is popular with foreigners staying here" (Kusakabe).
   The Kagan Hotel is, in a sense, a place for artists to develop their livelihoods. That is why Kagan Hotel's rates, including room rent and studio use, are comparable to those of a standard rental flat.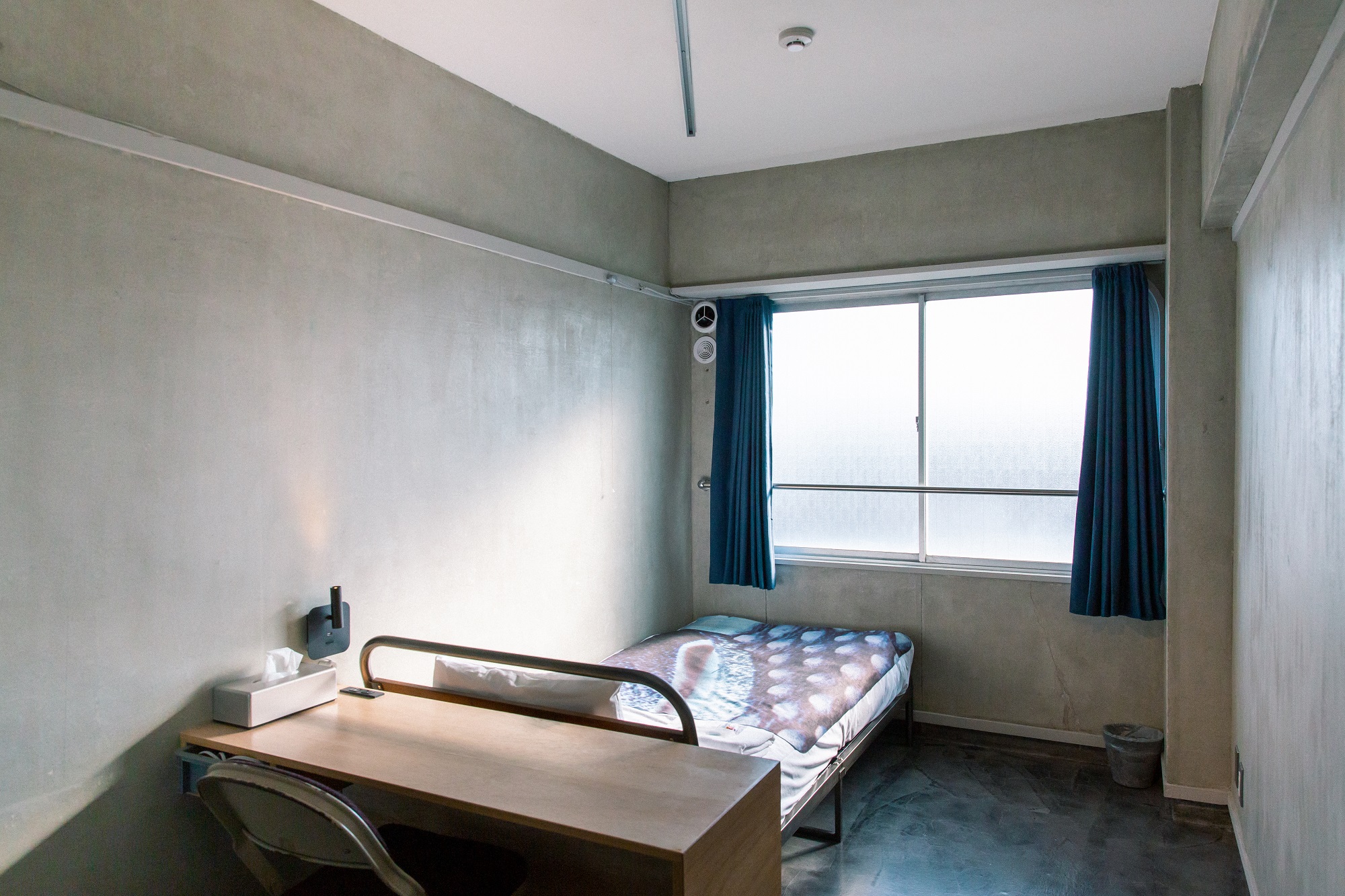 If necessary, we will change the operation of the hotel to suit the way artists work. For example, we do not have breakfast services at the moment. If there are artists living here who can get up early in the morning, we would like to ask them to make and serve breakfast. In addition, if someone wants to work four days a week, we can review the hotel's rate plan to make that possible for them; so, we can be flexible with the management itself" (Kusakabe).
As a result of these efforts, the most frequent artists-in-residence at the Kagan Hotel are young artists who have graduated from art universities in Japan and abroad, and artists in their thirties who are not graduates of art universities. This is an environment in which art, internationality, and sociality can converge and exchange ideas with each other. Incidentally, in 2021, as a satellite event of KYOTO GRAPHIE, "KG+ 2021," a solo exhibition by Hanako Kimura entitled "[ ] goes to Gray" was held (September 17 – October 17).
   The main business of Mei Co., Ltd. is to invent and propose ways of working and living. In the course of running the hotel, we have been thinking about how we can make the work of artists more accessible to the public. As a way of putting this into practice, from this year we are renovating Japanese houses, including machiya, to create collectors' houses where artworks can be beautifully displayed" (Kusakabe).
The Kagan Hotel is not only an extraordinary residence for the artists who stay there, but also a place to connect with the everyday life of an artist in Kyoto.
---
---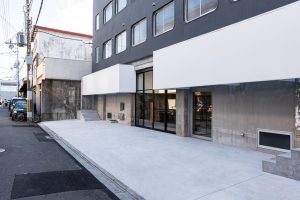 Kagan Hotel
99 Suzaku Hozo-cho, Shimogyo-ku, Kyoto City, Kyoto
The hostel (no interview, open to non-artists), where you can stay for 6 months or less, costs 77,000 yen/month + 1100 yen/day for use of the production studio. A shared house (with interview, unfurnished production space) for a stay of more than 6 months is 6,6000 yen for the initial cost + 45,000 yen for the amount + 8,000 yen for the common service fee (water, gas, electricity, wi-fi). All prices include tax. Residence information is always available on our website. https://kaganhotel.com/apply
---
---
Stay inside and be inspired: BnA Alter Museum
   In addition to Shijo Kawaramachi, the art hotel BnA Alter Museum offers guests the chance to stay in art rooms created by some of today's leading artists, such as Daito Manabe and Lulu Kouno. The difference between art rooms and rooms in boutique hotels is that art rooms are not designed like typical hotel rooms. Rather, they are liveable art exhibition spaces.
   There are many contradictions between the techniques used in art installations and those used in architecture, even though they may look similar. The former emphasizes aesthetics, sometimes at the expense of durability, while the latter is based on the fundamental premise of long-term functionality. The BnA Alter Museum, where the rooms are designed as art galleries, aims to be both a hotel and a museum, and an alternative to both," says art director Kazutaka Tsutsui.
   The design of BnA Alter Museum is based on the principle of putting the artist first. In other words, every room is based on a concept created by artists chosen by a variety of external directors.
For example, sound artist Aoki Takamasa's "Traveling Room" is designed specifically for sound, with four speakers and a woofer surrounding the bed. Guests can enjoy a variety of environmental and electronic sounds. The idea behind the design is to offer the experience of "immersing oneself in a field of sound like a bathtub." The room is designed in a way that is similar to the artist's actual studio.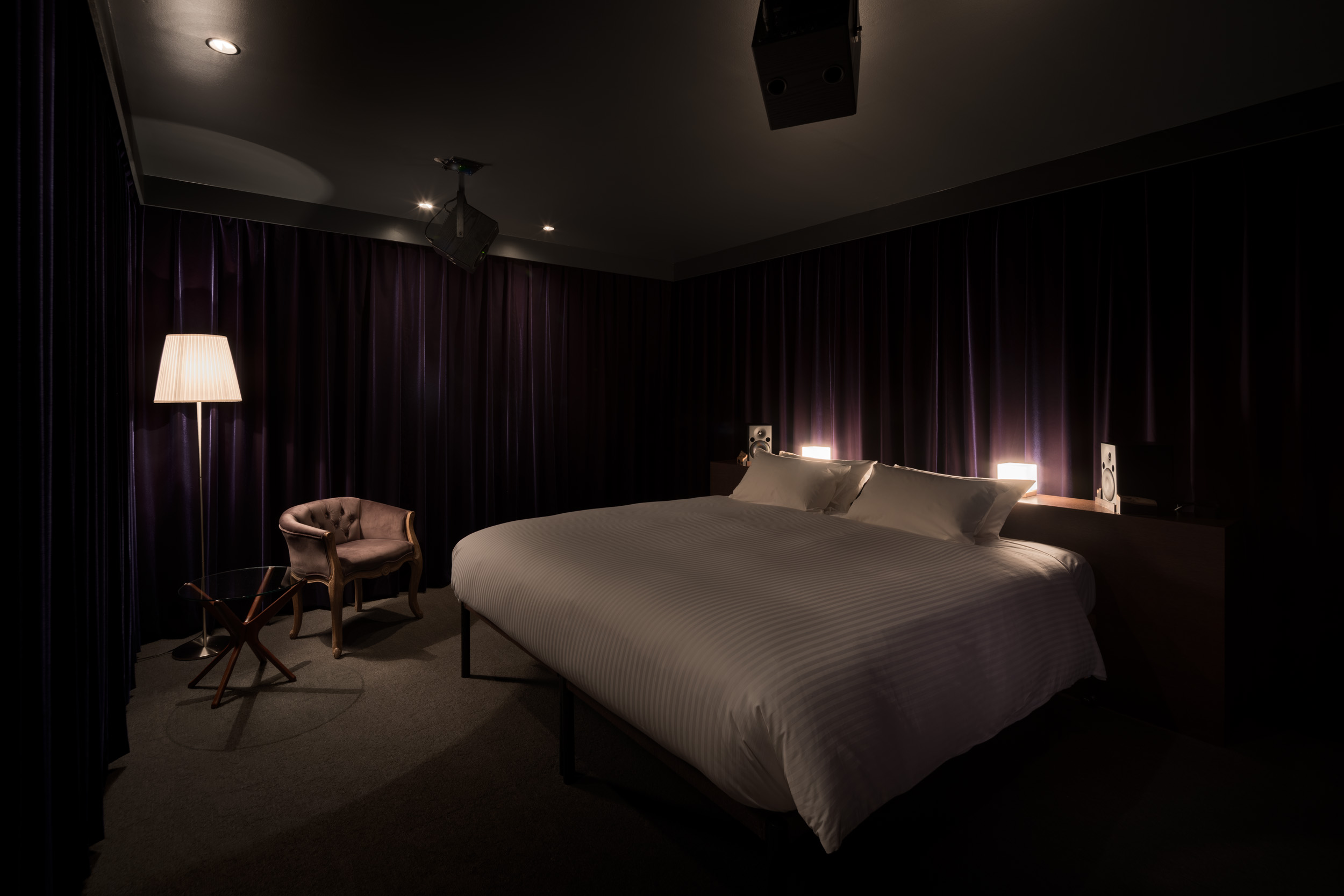 "As a hotel and as a museum, our aim is to create a new form of art experience. The experience generates creativity and transforms the guest into an artist after their stay. We hope to create a utopian situation of such an artistic experience, which is why we created the BnA Alter Museum" (Tsutsui).
   The artist-in-residence program at the BnA Alter Museum is designed to expand the societal influence of art. The program is a temporary, short-term residency. Program offerings vary from project to project, but basically the applicants are interviewed and provided with a place to stay and a production fee.
   For example, the artist-in-residence in February 2021 was held in collaboration with FabCafe Kyoto with the aim of supporting artists against the backdrop of the COVID-19 medical emergency declaration. During the pandemic, art exhibitions were cancelled or postponed across the board, and artists' work suffered greatly. The hotel industry has been severely affected by disasters. In this context, the BnA Alter Museum supports artists by suspending the sale of accommodation with the aim of "supporting as many artists as possible".
   The second edition of the artist-in-residence program took place from August 16 to September 15, 2021, and included five artists (GILLOCHINDOX☆GILLOCHINDAE, Nukeme, MARINA LISA KOMIYA, Asako Fujikura, and Ryotaro Fuyuki).
   One of the most interesting aspects of the artist-in-residence program was the interaction of the artists with various aspects of Kyoto. For example, Asako Fujikura, an artist who specializes in 3DCG spatial expression, chose the Kitayama cedar tree in Kyoto as her subject. It is said that the Kitayama cedar is produced by cloning from a single mother tree. One of the ideas behind her work is to juxtapose this method of production with the replication process of modelling in computer graphics software. It is very refreshing to see Kyoto from an artist's point of view" (Tsutsui).
   Inspired by the power of art and the human imagination, the BnA Alter Museum is an artist-in-residence and an experience dedicated to inspiration.
   We introduced two artist-in-residence hotels from the perspective of "living" in and "inspiration" from Kyoto. Both promise an intense experience for artists who come to Kyoto to work. Beyond the COVID-19 pandemic, we hope that Kyoto will continue to be filled with art created by vivid imaginations. If you are an artist, we invite you to become an artist in residence.
---
---
BnA Alter Museum
267-1 Tenma-cho, Shimogyo-ku, Kyoto-shi, Kyoto
Delax Double Room (18,500 yen per night for two people), Delax Queen Room (23,500 yen per night for two people) and others. To apply artist in residence program, see website:
https://bnaaltermuseum.com
---
---
Writer
Akihiko Mori
Based in Kyoto, Japan. His main interest is in social critique of the interaction and collision between emerging technologies and human nature. As well as working in editorial and branding, he writes fiction for independent publications and undertakes journalistic projects. He holds an MA in Media and Communication from University of the Arts London.


---
---