On Thursday, November 4, 2021, a symposium was held by the Agency for Cultural Affairs with participation by various groups and individuals including organizations running Artist in Residence programs (referred to as AIR below), local government, and artists interested in AIR. In addition to in-person participation at the Kyoto Art Center, live online streaming was also offered. (Co-host: Kyoto City, Operating office: Kyoto Art Center (Kyoto Arts and Culture Foundation), Cooperation: AIR Network Japan)
   Following in the footsteps of 2020, 2021 was a year that once again saw multiple issuances of the COVID-19 pandemic State of Emergency Declaration. It was a year of mandatory international travel and outdoor movement restrictions, a year in which everyone experienced obstacles in their daily lives. The very purpose of AIR programs is to bring artists in from far away places and have them interact with the local land and people. And after experiencing all sorts of setbacks and going through many attempts at trial-and-error, AIR programs are currently unfurling new possibilities in this second year of the COVID-19 pandemic.
   The goal of this Symposium was use the stories of organizers and curators who have deployed unique AIR programs in areas all over Japan as a springboard to think about what kinds of formats are possible regarding interaction through AIR in the COVID-19 pandemic era.
In the first part of the Symposium, BEPPU PROJECT Representative Director Junya Yamaide and Hospitale Project Program Director Azumi Akai gave reports on specific activities they have conducted during the COVID-19 pandemic.
   Based in Beppu City, Oita Prefecture, the BEPPU PROJECT incorporates not only AIR activities, but also a wide array of projects including art festivals, tourism PR, and corporate consulting. Based in his experience participating as an artist in AIR activities both inside Japan and abroad, Director Junya Yamaide pointed out that AIR goals differ for each of the different viewpoints of the artist, organizer, local government, and viewer. He commented, "For the artist, AIR projects are a chance to grow, but local government desires an opportunity to interact with community residents and the organizer is focused on putting together a successful exhibit or event. The viewpoints of everyone involved is different, but the vision of creating a bountiful future for the area is the same, and their role is to insert lateral connections in vertically structured organizational silos. The question of how to build even better relationships among the four parties involved is what is important."
   Full support residence was not offered last year for the AIR program that the BEPPU PROJECT has deployed every year. This year, they are trying out an experimental program with an open call for participation, in which foreign artists participate online and Japanese artists come stay in Beppu, working together to create international collaborations. Additionally, the BEPPU PROJECT also invited artist Tetsuya Umeda for last year's installment of "in BEPPU", an art festival in a one-person show format. The initial idea was for artists to develop projects there in frequent visits, but the policy changed to a single long period stay instead due to travel restrictions. Yamaide reported that, due to the process of creating art during a long period stay to deepen the possibilities for artistic expression and viewing in the COVID-19 pandemic environment, the artwork format wound up changing.
   Since the Beppu Contemporary Art Festival "Mixed Bathing World" started in 2009, over one hundred artists and creators coming to stay in Beppu City for the festival has formed previously nonexistent linkages with facilities and fields, and there has been an increase in cases of artists and creators contributing to the spreading of information for local government and the resolution of issues for small and medium-sized enterprises. Yamaide specified that advancing residences by creators across a wide array of genres and taking the time to promote an understanding of the ideas of artists among the community and enterprises is important.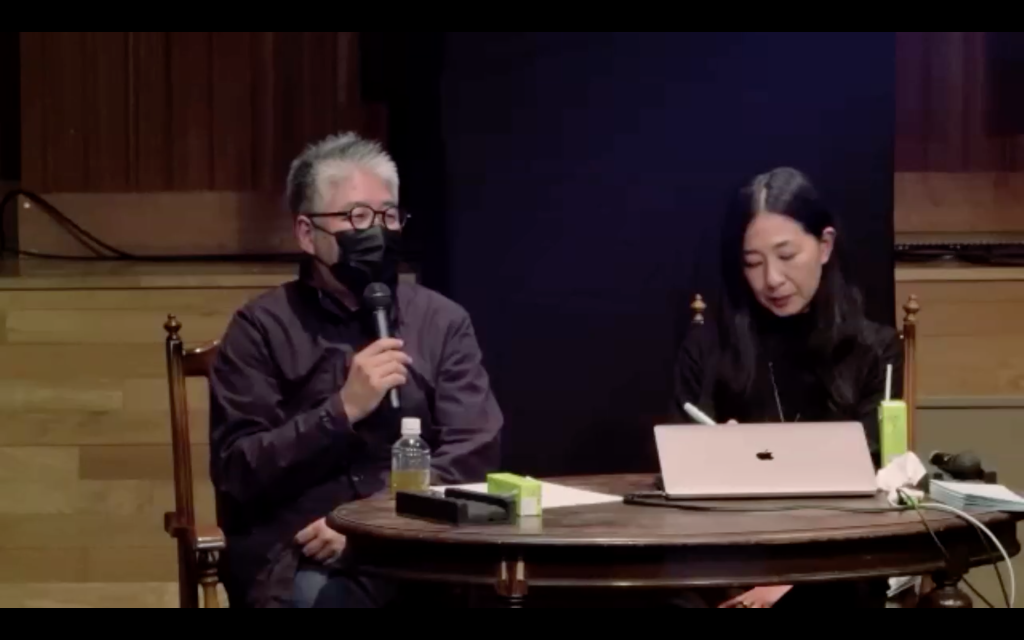 Director Azumi Akai introduced the activities of the Hospitale Project, which aims to revitalize the central urban area of Tottori City in Tottori Prefecture through art. In addition to its gallery program and community program, the Hospitale Project also conducts an AIR program with the former Yokota Clinic serving as its studio and exhibit space. It operates the nearby former inn "Kotomeya" as an artist residence lodging facility. The program values the significance of creating and presenting art in this space, and strives to be a testing ground for medium-standing creators to experiment with artwork creation in this unique architectural space that presents difficult challenges for displaying works. Some of the works created here have become prototypes, and have even been shown at other large-scale art festivals and art museums. 
   Because this is not a governmental body, but instead has deployed activities lightly on a small scale, it has successfully continued to employ the spirit of "marching forward quietly within a feasibly sustainable scope" without budget descaling or invite cancelling even during the COVID-19 pandemic. In fact, in the summer of last year it held a Maiko Jinushi exhibit called "Brain Symphony". And it has continued to periodically present exhibits subsequently under the stance of, "For those who are able to visit, please come." As a derivative effect of artist residences, students and city residents have opportunities to come into contact with the creation process of artists in "School-in-Progress", a program that aims to cultivate human resources. This has reportedly inspired them to re-examine their daily lifestyle, discover hidden creative potential, and cultivate creativity within themselves. Last year it was held online. 
   The theme of the second part was "Artist in Residence Programs as a Means of Interaction". It unfolded under the lead of curator Hiroyuki Hattori, who has bountiful AIR program organizing experience at places like the Aomori Contemporary Art Centre and Akiyoshidai International Art Village. Sapporo Tenjinyama Art Studio AIR Director Mami Odai also joined in, and a discussion was held among the four participants.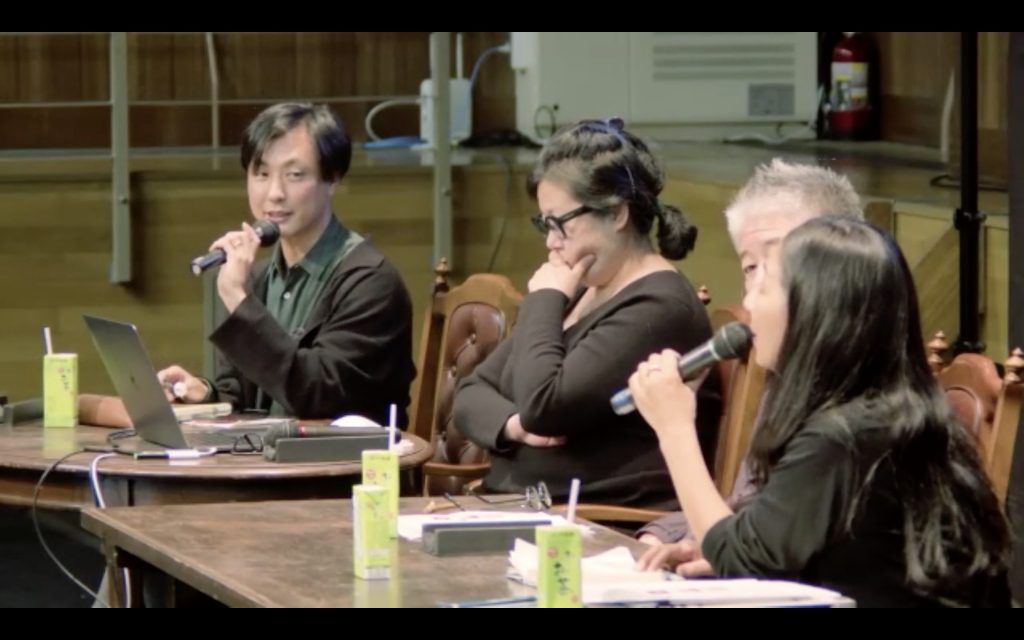 First, Director Mami Odai introduced Sapporo Tenjinyama Art Studio activities. She announced that while before the COVID-19 pandemic, artists from outside of Hokkaido made up the majority of their artists and foreign artists accounted for about 30% of their users, users in these categories had dropped dramatically in number starting last year, and the good news was the resulting increase in usage among local artists who the program had previously been unable to allow access. She reported that in last year's invitation program, though they did test out online residency mainly with foreign artists, the video conferencing tool was used only to facilitate communication. However, she reported this year has featured more active experimentation with artists discovering possibilities for collaborative online projects and doing things like using recorded Zoom videos as components in artwork.
   Next, when curator Hiroyuki Hattori stated that one of the characteristics of AIR is, "an extremely wide range in people with interest and involvement," other discussion panelists also chimed in, saying that not only art enthusiasts, but also a diverse array of people including general people relocating into the city, companies and government offices are also interested and become involved. According to Yamaide, "In AIR programs, instead of us seeking something from the artists, we give artists support for what they want to do and what they need. And this broadens linkages through the interests of the artists and their creation process." Odai commented, "I have researched how many people a single artist will interact with throughout the process of creating a work, and I found that networks with a surprisingly diverse array of people naturally came into being." A suggestion was made to create a visual representation of these interactions, reel it in, and devote attention to deploying collaborative work.
   The panelists were asked about their motivation to continue deploying AIR programs. Odai spoke as someone who has lived in Hokkaido for two decades after relocating there, "By actually going to spots where artists can discover local area resources, you can learn about that place." Yamaide answered, "The growth of artists. When an artist tells me later that their residence experience was a major moment in their lives in making them who they have become, this is the biggest gift." Akai spoke about the joy of going to spots that spark inspiration for the artists and explained that she organizes her programs in such a way as to create situations in which the most amount of people can be involved.
   In the end, Akai's words about the characteristics of AIR projects regarding involvement were touching. "In exhibits at museums, once you hold an exhibit that is the end, which is to say, it is difficult to continue inviting a specific artist multiple times. But with AIR programs, connections with artists grow deep, the feelings of the artist towards the residence country also grow strong, and you find that your list of friends keeps growing. And artists often say they want to return and tell you about the things they want to do next time." There are reportedly regular artists who work on projects continually over multiple years. And when they return to present talks, it can become a gathering of many old acquaintances. Akai spoke of how fun it can be to periodically hear the new ideas that have percolated and developed during the time when the artist is gone. The act of incorporating an online environment during the COVID-19 pandemic has gradually dissolved the concept of "residence period", and longer period AIR programs are being cultivated in the various areas. AIR programs are about providing a spot for artists to spend time bringing life to some completely new and surprising creation. And this discussion reminded us that the relationships and continuity created from this is the core appeal of AIR programs.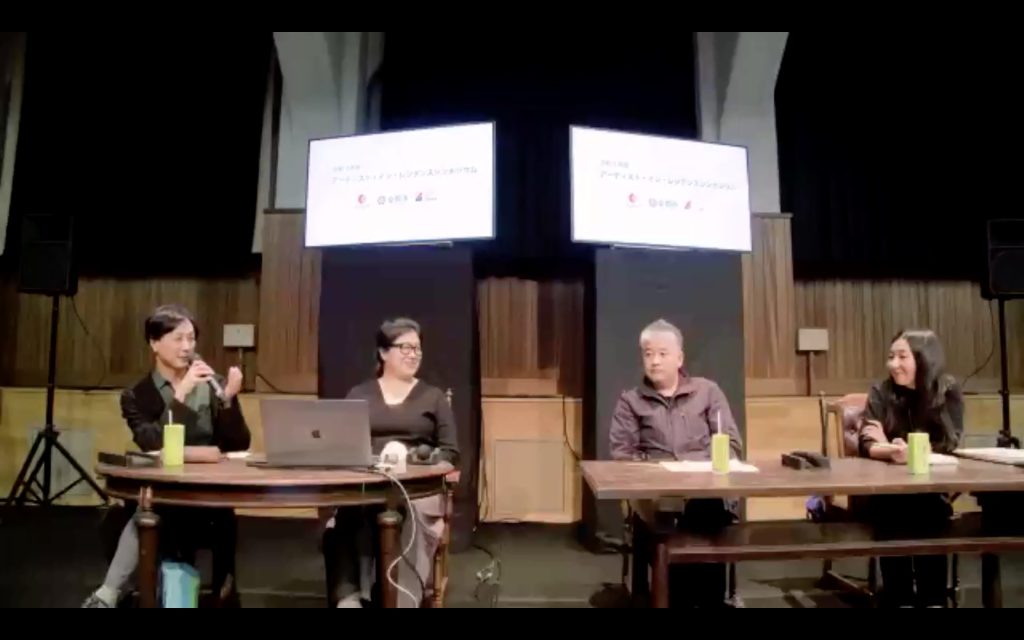 Artist in Residence Synposium 2021

Date: Thu. 4 November, 2021
Time: 13:30-16:30
Venue: Kyoto Art Center Milti-purpose hall / Onlne
Speakers: Azumi Akai (Hospitale Project Program Director), Mami Odai (Sapporo Tenjinyama Art Studio AIR Director), Junya Yamaide (NPO BEPPU PROJECT Director, Artist), Hiroyuki Hattori (Curator)

Case Study
 BEPPU PROJECT|Junya Yamaide (NPO BEPPU PROJECT Director, Artist)
 Hospitale Project|Azumi Akai (Hospitale Project Program Director)
Discussion 
 Azumi Akai, Mami Odai, Junya Yamaide, Hiroyuki Hattori (Facilitator)

Res Artis Bangkok Meeting repot

Organized by the Agency of Cultural Affairs
Co-organized by Kyoto City
Management by Kyoto Art Center (Kyoto Arts and Culture Foundation)
Supported by AIR Network Japan
---
---

Sakiko Nishio (Art Manager, Editor, Nara Prefectural University Visiting Associate Professor)
Born in 1982. She completed the Division of African Area Studies graduate course in the Kyoto University Graduate School of Asian and African Area Studies. After serving in an internship at the National Museums of Kenya Centre for Biodiversity, she conducted fieldwork on the artist creation process and social activity in Nairobi and worked in planning and managing fine arts and culture enterprises. She serves as a Kyoto Art Center Art Coordinator, Kyoto City University of Arts Art Gallery (@KCUA) curator, and Art Manager for domestic art festivals, art projects, and the Nara Prefectural University "Practical Art Management Human Resource Development Program CHISOU".
---
---
【Related Article】
Report on Agency for Cultural Affairs: FY2020 "Artist-in-Residence Program" Online Symposium Report
旅するアーティスト-AIRと街-「山陰レジデンスレポート 移動と生活」|アーティスト:前谷開|