To commemorate the establishment of EUNIC Kansai in 2022, EUNIC Kansai and Kyoto Art Centre organized a hybrid symposium "AIR on air 2.0". This symposium took over the discussions from the online symposium "AIR on air" held in December 2020 under Corona, confirm the current position of artist-in-residence (AIR) under the rapidly shifting social conditions and discuss what kind of changes are required.

Jun'ichiro ISHII, who served as a facilitator at the previous symposium, reports on this year's symposium.
The hasty extinguishing of fires during the pandemic is partially coming an end, but this crisis has given way to realization of other things: wars, tensions and of course global warming. So, we must deal with the question of how we can and how we want to live on this planet.
The above statement was made by Enzio Wetzel, director of the Goethe-Institut Villa Kamogawa, at the opening of the hybrid symposium AIR on air 2.0, organized by the Goethe-Institut Villa Kamogawa, Villa Kujoyama, Institut français du Japon-Kansai, Embassy of the Kingdom of the Netherlands in Japan, and Kyoto Art Center.
How can artist-in-residence (AIR) programs, which provide spaces for artistic creation, support the activities of artists? Is it their function to preserve artistic freedom? Or is it their mission to extend freedom to the new demands we face on a global scale?
Two years ago, in December 2020, at the first AIR on air symposium held online as our freedom of movement was greatly restricted due to the Covid-19 pandemic, participants discussed the outlook for AIR from the perspectives of freedom of mobility, decarbonization (green mobility), and digitalization. At AIR on air 2.0, the focus was narrowed down in particular to the two topics of "Art Production and the Climate Crisis" and "Solidarity and Care," with experts in various fields invited to exchange opinions in a hybrid format.
Today, in what is beginning to be called the "post-pandemic" era, what functions are required of AIR programs? In her opening address, Eva Nguyen Binh, the president of the Institut français Paris, stated:
Some of the questions that would be interesting to discuss are what type of residencies are suitable for this post-pandemic period. We organized a special residency, for example, for 100 Lebanese artists right after the explosion of the port of Beirut, so 100 artists came to France after this explosion. We also welcome Ukrainian artists. So, how can we welcome them best in this time of crisis, and what happens after the residency while the crisis is still going on their country?
Session 1

.Art Production and the Climate crisis – Perspectives from Europe and Japan
In the first part of the symposium, four presenters spoke on the subject of "Art Production and the Climate Crisis."
Martin Germann, an adjunct curator at the Mori Art Museum, raised the examples of Lothar Baumgarten (1944–2018), whose work was presented at the Aichi Triennale 2022, and Nancy Holt (1938–2014), whose collaborative work with her partner Robert Smithson (1938–1973) was screened as part of the Mori Art Museum's MAM Screen 017.
In the late 1960s and early 1970s, from on an ecological viewpoint in particular, Baumgarten eschewed Western discourses and the thought systems that drive modern society, and instead found inspiration in the sustainable lifestyle of the Yanomami people who live in the Amazon rainforest.
In the 1980s, Holt, who had pursued various artistic activities, began to focus on the infrastructure that surrounds us. Infrastructure is always present as part of our environment, yet despite this, is normally invisible. Rather than "creating" works by adding something to physical material, Holt adopted an approach of "making visible" things that already existed but were no longer visible.
Germann points out that the problems we face today did not suddenly begin to occur recently, that they existed in the 1960s, 70s and 80s and that by looking at the approaches adopted by artists of that period we can perhaps get a clearer picture of what we should be thinking about today.
•
The second presenter, Giulia Bellinetti from the Jan van Eyck Academie in the Netherlands, introduced the Future Materials Bank, which the Jan van Eyck Academie has been developing in collaboration with the MA Material Futures at Central Saint Martins, University of the Arts London (UAL); and the Green Art Lab Alliance (GALA) since 2020.
The Future Materials Bank is an online "materials archive" developed to support and promote sustainable art practices. As of February 2022, the bank's collection contains information and samples relating to more than 300 non-toxic and sustainable materials submitted by artists, designers and other practitioners in various regions around the worlds. According to Bellinetti:
We call them "future materials" in terms of being future proof; they are not necessarily new materials, so we also share questions concerning the idea of futures, and the tendency of looking always for the novelty and innovation.
The Future Materials Bank aims to revive art practices that maintain a better balance between humans and the environment by reusing and rediscovering traditional craftworks and their techniques, and to inspire those involved in art and design to follow their example.
•
The third presenter, Mihara Soichiro, is an artist who uses technology to create works on the theme of the cycles of nature. He introduced three of his own works related to environmental destruction and climate change.
Created in response to the 2011 Tohoku earthquake and tsunami, the sound installation bell (2013) uses a radiation sensor to measure the level of radiation in the exhibition space and triggers a wind chime depending on the result.
At first sight, the triggering of a wind chime inside a dome with no air circulation is a peculiar phenomenon. Traditionally in eastern Japan, bells or chimes were placed on the boundary between the world inhabited by humans and the world beyond and served to alert people to evil entering from outside. With this work, Mihara sought to visualize radiation, something invisible to humans, not just as a measuring instrument and numerical data but also as a cultural experience.
In Res Nullius (2020), Mihara deals with the subject of water, something we come into contact with unconsciously on a daily basis. Floods and droughts are reported on increasingly frequently due to global climate change, but where exactly is water to begin with?
When air containing water vapor is cooled and condenses, moisture appears as "condensation" on the surfaces of objects. Making use of this phenomenon, Mihara generates moisture from the air inside an exhibition space equipped with cooling devices and produces what appear to be "rivers" and "rain," depicting the water cycle to which we normally pay little attention.
Lastly, Mihara, whose practice combines natural phenomena and media technology, introduced the compost project he has been working on since the Tohoku earthquake and tsunami. Titled Making Soil (2021), this project, described by Mihara as "a dialogue with microorganisms that use air (oxygen)," is still ongoing, with images of the bucket being rotated and air being mixed into the compost streamed online in real-time.
•
The final presenter in Session 1 was Felix Große-Lohmann, who runs an art space called Husslehof in Frankfurt, Germany. After seeing artists using worn-out materials in their practices, Große-Lohmann decided to establish Material für Alle as a used materials warehouse.
A lot of materials are used in exhibitions, some of which are expensive and precious. It is difficult to believe that these materials are thrown away after being used just once. By saving materials that have been used once and managing them in such a way that artists and art producers can reuse them in new exhibitions, Große-Lohmann's initiative encourages the reuse of resources.
Two things are required for the handling of used materials: a large space to store the materials, and a method for managing them. In collaboration with the Technical University of Darmstadt, Material für Alle developed a digital application, both making it easier for people to access the materials by digitizing them and enabling them to be used as part of digital design processes.
What we try to do is save these materials and store them in our local storage to make them accessible to artists and art producers to re-use for new exhibitions.
So what we really try to do is use the material overshoot of institutional art productions like theaters, museums, stages, fairs; and make this material accessible for artistic practices.
At documenta 15 held in Kassel in 2022, a room was installed using part of an old stage set to raise awareness of the issue of recycling in art. The oversized dog's head recreated inside the room incorporated 200 square meters of fur and an internal structure made of steel.
Today, when resource shortages have become more and more apparent due to Russia's military action and the aftereffects of the Covid-19 pandemic, these acts of reuse are becoming increasingly important. It is against this backdrop that Material für Alle (literally "materials for everyone") is seeking to deepen the discussion concerning the organized reuse of materials.
•
At the end of the first round of presentations, Roger McDonald, program director at the NPO Arts Initiative Tokyo and the moderator for Session 1, addressed the issue of climate change (or perhaps now better referred to as "climate crisis"), suggesting that although we all live on the same planet, our awareness at the level of daily life appears to differ dramatically depending on the country or region we live in, on the way we obtain information from the media, and on the kind of social or political system we live under.
In the face of these and other problems that confront us today on a global scale, what kind of thought processes and attitudes can we adopt? Through symposiums like this one and in particular through global AIR networks that have strong horizontal connections, we can learn about initiatives occurring in various locations around the world. By listening to voices from faraway places and thinking about things together, perhaps each of us can return to our own regions and engage in our own specialized activities with our "sense of the times" maintained (or even heightened).
Session 2: Solidarity and Care
In the second part of the symposium, four more presenters spoke on the subject of "Solidarity and Care."
Mykhailo Glubokyi, development director at IZOLYATSIA – platform for cultural initiatives in Ukraine, reported on the current state of the space.
IZOLYATSIA was founded in 2010 on the site of a former insulation factory in the city of Donetsk in the east of Ukraine. Once open to the public as a cultural complex incorporating educational, art, and artist-in-residence programs, the center was unable to continue functioning as a cultural facility following the occupation of Donetsk by Russian-backed military forces in the wake of Russia's 2014 invasion of Crimea. Today, the center has been turned into a military installation and is used as a detention center where even torture is conducted.
In 2014, IZOLYATSIA opened a similar facility in an old shipyard in Kyiv. However, they were forced to close again after a part of this facility was destroyed during the 2022 Russian invasion. With no space of their own, IZOLYATSIA is now devoting itself to online-based activities.
Most of these online activities involve supporting artists and institutions that are continuing cultural activities in Ukraine with financial assistance from the EU. This support is wide-ranging. AIR programs can help artists who have lost places to live due to bombing and also be safe destinations for people fleeing dangerous regions. Artists who have evacuated to relatively safe regions within Ukraine need support that enables them to engage openly with cultural organizations in these regions, while information concerning residencies and cultural support programs operated by other countries often does not reach individual artists. Providing and sharing such information is an important way of supporting artists.
After introducing exhibitions by Ukrainian artists held in Berlin and Paris, Glubokyi concluded his presentation with the following remarks.
It's really important to say that all the work of artists is important because it always gives a voice Ukraine to abroad, so this comes in the frames of cultural diplomacy. A lot of our artists are not just coming to work for themselves or their projects, unfortunately at this kind of time, but they also represent the country; they talk about what's going on in Ukraine; they talk about experience of people of Ukraine.
•
Heidi Vogels, an artist and coordinator of DutchCulture|TransArtists, which boasts the world's largest database of artist-in-residence programs, shared her own views based on her wealth of experience.
Immediately after the Russian invasion of Ukraine, TransArtists invited artists who had fled Ukraine to residencies in Spain. This was such a success that in cooperation with its partner organization in Kyiv, House of Europe, TransArtists began connecting Ukrainian artists and AIR programs in the Netherlands.
It was a quite spontaneous action, so in the beginning we just saw that many people responded. But it also made us think: What does it actually mean? What can it mean for an artist residencies – to look again at residency as a model, and the idea of hospitality – and how can we work with this to develop new ways of thinking concerning residencies in the future in response to crisis situations? ¹
Vogels was surprised at how promptly such support networks were able to act. Cultural cooperative structures and networks that had been established and maintained over long periods of time supported those facing crises. Vogels added that we need to open our doors and create places that feel safe to people fleeing the horrors of war.
•
I will first give you maybe a few words about, an indication of, the history of Cité internationale des arts, the history of the place. I will just explain that since 1965, since opening of Cité, Cité has been always a safe place for the artist, with very very long history of welcoming and supporting artists in exile from post-war until today.
Vincent Gonzalvez, head of the residencies at Cité internationale des arts in Paris, also gave a presentation.
Designed by architect Félix Brunau in the 1950s and opened in 1965, Cité internationale des arts was (as one can imagine given the period in question) heavily influenced by World War II. The plan itself was based on a strong desire for peace.
According to Gonzalvez, Cité, which is equipped with 325 studios and hosts more than 1000 artists from 90 countries each year, is not so much a collection of studios for artists in residence but a community resembling a city enabling artists from all fields, all generations and all nationalities to come to Paris and work while leading dignified lives. In 1965, on the basis of an agreement with the UN, Cité, which has been involved in international activities from quite an early stage even in global terms, hosted as an artist a pianist who had entered France from Poland as a refugee. Since then, Cité has accepted numerous exile and refugee artists. Since 2011, in partnership with the Municipality of Paris, it has provided two-year-long extended residencies to artists from Afghanistan, Yemen and Bangladesh as an official ICORN (International Cities of Refuge Network) organization.
At present, a large number of artists from Ukraine and Myanmar are staying at Cité. Since its opening in 1965, Cité has always been an extension of disputed territories and states of emergency, and for this reason it has continued to provide a "place that feels safe" to artists while assuming aspects of a microcosm of the situation in the world today.
•
The final presenter in the second part of the symposium was Juliet Knapp, co-director of the International Performing Arts Festival Kyoto Experiment, which is held in Kyoto and showcases the work of avant-garde, experimental artists from Japan and overseas.
Every year, Kyoto Experiment invites avant-garde artists or groups from Japan and overseas to stage experimental performances that span multiple disciplines including not only theater and dance but also art, design and architecture. In conjunction with this initiative, between three and five new works are created annually, and in the sense that it provides opportunities for artists to create new work on-site, Kyoto Experiment serves a function very similar to that of a residency.
For its tenth anniversary in 2020, Kyoto Experiment shifted to a new format. In addition to the regular Shows, Kansai Studies, a program in which artists take the lead in researching the regional culture of Kansai, including Kyoto, and Super Knowledge for the Future (SKF), a program of talks and workshops designed to deepen people's knowledge of the various problems and issues that form the backdrop to the festival, were newly established. As Juliet Knapp explains:
Shows is a lineup of artists that we think are producing radical and experimental work that we believe is important to be seen in Japan, in the Japanese context, right now. This year we introduced an artist from Thailand and an artist from Iran, two countries that have recently seen protests and political upheaval. It was very important for the festival to introduce these artists who we felt were making very radical work for their context; not only to introduce their work, but to introduce their context properly to our audiences. We also did a series of talks on art and politics this year as part of our Super Knowledge for the Future program: one about politics in Okinawa, one about what kind of work artists are doing in Thailand, and one about what kind of work artists are doing in Russia.
•
At the end of the second round of presentations, the moderator, Kyoto Art Center artistic adviser and Kyoto city cultural policy coordinator Mayumi Yamamoto, stressed the importance of "urgency" in cases such as Ukraine that require support right now. She then asked what can be done about "after residencies" for artists who have finished the terms of their residencies, and what kind of support is available for artists who have actually fled dangerous situations such as wars as international support networks expand.
With respect to situations such as war, Heidi Vogels of TransArtists expressed the view that residencies are one of a range of initial responses to fellow artists who have crossed national borders, and that they have huge potential in that they can enable people active in cultural spheres to expand their mutual connections and extend their support circles. But she added that AIR programs cannot be the ultimate solution in terms of ongoing support.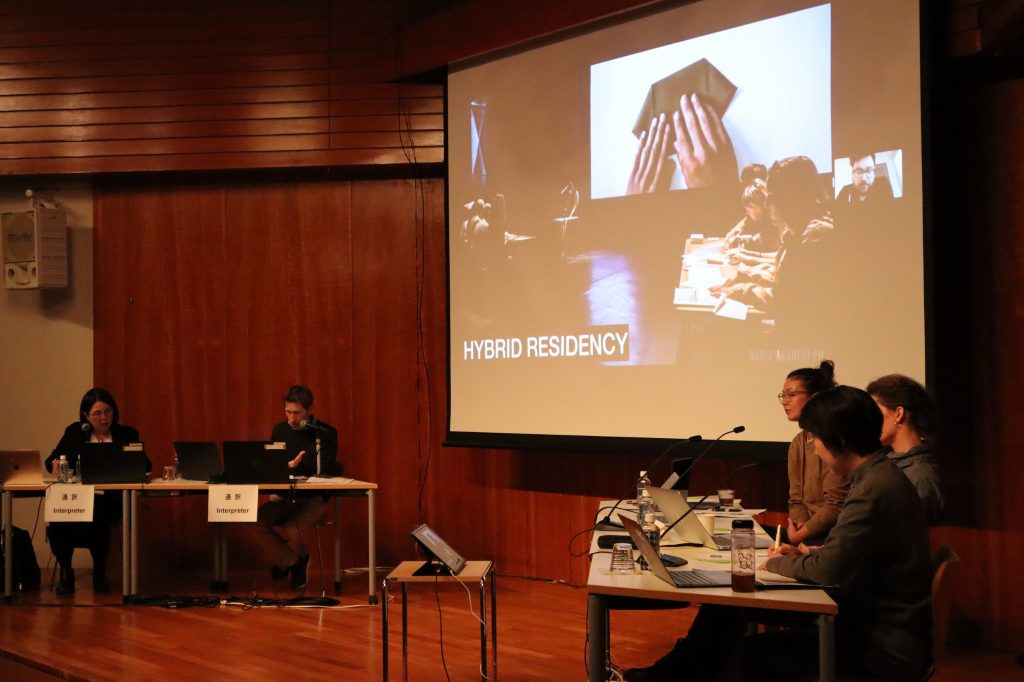 I would like to conclude this article with the following summary of Vogels' remarks.
I think AIRs are a very good first solution until the governmental structures of these countries are in place and can help artists to find their – maybe – temporary place in society and the support that they need. However, I do think that we can do more than we are currently doing. Looking at Brussels, for example, there is one organization supported by the municipality that is offering newcomers – they call them "newcomers," not refugees, but newcomers. Here we see that language is also a very important aspect in how to educate ourselves to work and think differently concerning situations and find other solutions.
We have to keep educating ourselves in how we address each other too. For example, in politics they like to say, "flow of refugees," and things like "streams of people" "flooding the country" and so on. We should also be critical about this kind of language, and how we address problems. You can say it's "failing policy," but it's "failing politics," and that completely turns the situation around. It also turns around how we relate to each other.
I also very much liked what Juliet was saying. When you have these presentations about artists you also educate your audiences. I think that may be another task ahead of us as cultural spaces, as residencies, and so on: how to create more understanding for each other's contexts, and in that sense also, how to understand what is meaningful, and how we can invest in that, how we can work with that.
¹ TransArtists has been developing, together with Kunstenpunt in Brussels, the peer-to-peer meeting Future Hospitalities to bring professionals from the cultural and humanitarian field together to explore this topic.
https://www.transartists.org/en/news/future-hospitalities-hosting-learning-and-changing
---
---
Jun'ichiro ISHII, ICA Kyoto Residencies Coordinator
Artist. Born 1975 in Fukuoka, Japan. Since 2004 ISHII has been traveling on the margins of art / through interlocal settings in Asia, the Middle East, and Europe, making and presenting works in over 20 countries. In addition to participation in the 10th Istanbul Biennial: "Nightcomers" (2007), 4th and 5th TashkentAle (2008/2010, Uzbekistan), 2nd Moscow Biennale for Young Art (2010), Artisterium IV/VI (2011/2013, Georgia), and 2nd and 3rd Larnaca Biennale (2021/2023 Cyprus), his work has been shown in a number of group and solo exhibitions. Since 2020 he has been building an artist-residencies network at ICA (Institute of Contemporary Arts) Kyoto, in parallel to his work organizing exhibitions at KIKA gallery Kyoto. He also teaches part-time at Kyoto Seika University.
https://junichiroishii.com/

---
---
Hybrid Symposium "AIR on air 2.0"
Date: 16 December 2022
Goethe-Institut Villa Kamogawa and online (Zoom)


Session 1: Art Production and the Climate crisis – Perspectives from Europe and Japan
Soichiro Mihara, Artist, Japan
Giulia Bellinetti, Jan van Eyck Academie, the Netherlands
Martin Germann, Adjunct Curator, Mori Art Museum, Germany/Japan
Felix Große-Lohmann, Director, Material für Alle & Husslehof, Germany

Moderator: Roger McDonald, Program Director, Arts Initiative Tokyo [AIT], Japan


Session 2: Solidarity and Care 


Heidi Vogels, DutchCulture I TransArtists, Artist, The Netherlands
Juliet Knapp, Co-director, International Performing Arts Festival KYOTO EXPERIMENT, Japan
Mykhailo Glubokyi, Development director, IZOLYATSIA, Ukraine
Vincent Gonzalvez, Head of the Residencies, Cité internationale des arts, France

Moderator: Mayumi Yamamoto, Kyoto Art Center artistic adviser, Kyoto city cultural policy coordinator, Japan

Organizers: EUNIC Kansai (Goethe-Institut Villa Kamogawa, Villa Kujoyama, Institut français du Japon – Kansai, Embassy of the Kingdom of the Netherlands), Kyoto Art Centre (Kyoto Arts and Culture Foundation)
Cooperation: AIR_J, The German Consulate General Osaka-Kobe, The Netherlands Consulate-General in Osaka

Thanks to Mami Odai (Sapporo Tenjinyama Art Studio), Shintaro Tokairin (Arts Initiative Tokyo [AIR])

EUNIC Kansai
EUNIC – European Union National Institutes for Culture – is the European network of organizations engaging in cultural relations. The EUNIC Kansai cluster was officially established in June 2022 on initiative of Goethe-Institut Villa Kamogawa, Villa Kujoyama, Institut français du Japon – Kansai, and the Embassy of the Kingdom of the Netherlands in Japan. EUNIC Kansai aims to be a cultural bridge between the European Union and the Kansai area of Japan. It contributes to the connectivity of the cultural sectors in Europe and Kansai and the mobility of European and Japanese artists.
Related Article
▶Report on "AIR on air Symposium" – Artist in Residence under the pandemic