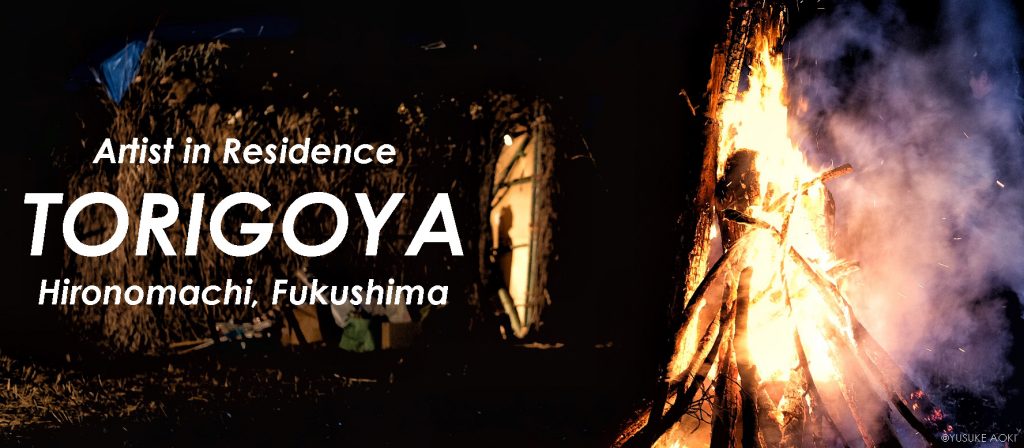 TORIGOYA Project is an artist-in-residence program run by the Hirono Town in Fukushima Prefecture, JAPAN. Its aim is to promote Hirono's recovery from the disaster through the power of contemporary art. A particular focus of the TORIGOYA Project is to increase the number of people visiting and living in Hirono Town.
What the artists should do?
Invited artists will stay in Hirono Town for a total of 30 days between December 11, 2023 and January 15, 2024 to research the history, climate, culture or something other of Hirono Town and create their own site-specific artworks in collaboration with town residents, especially youth and children as socially engaged art. Artists should also create an artwork about the process of building his/her/their site-specific artwork in some form of media till the end of February. There are no restrictions on the media. 

One copy of this derivative work must be sent to committee. In the case of work in non-reproduction media such as painting, for example, it can be one of a series of works with different contents. The town will keep the works as public collections and use them to promote the town. (You can write it as "notable collection" in your CV)

Site-specific works created during the residency will be burned (or dismantled if they cannot be burned) in the same manner as traditional TORIGOYA during the "Dondoyaki" on January 8.
Eligibility
– Individuals aged 18 and over.
Nationality and place of residence are not limited. However, due to the short period between the deadline for applications and the residency period, foreigners residing outside Japan are advised to check with the Japanese embassy in their country of residence regarding whether or not a short-stay visa is required and how long it will take to obtain one.
– Artists of all genres including literary and performing arts.
– Must be able to stay in Hirono Town for 30 days between December 11 and January 15. The period of stay can be divided into two parts. However, the artist must stay from January 6-8.
– Must be able to communicate in Japanese or English or Japanese Sign Language or Japanese Correspondence Sign Language (including written communication). In the case of sign language speakers, the Committee will arrange a sign language interpreter to the extent possible. Applicants who require other barrier-free considerations should feel free to contact the Committee.
Terms and Conditions (extract)
– During the artist-in-residence period, participants must stay in designated accommodation in the town of Hirono. The accommodation will be at Hatago Inn Fukushima Hirono (in front of Hirono Station on the JR Joban Line). The Committee will arrange and pay for the accommodation directly. Breakfast and dinner are included.
– Studio for artists will be available at Hirono Miraikan. 12 min. walk from the Hotel. Free Wi-fi available. A satellite laboratory of the Isotope Science Center of University of Tokyo also occupies the Hirono Miraikan.
– 100,000 yen will be provided as a provisional payment upon arrival in Hirono for various activities during the stay. You are free to use this money for transportation, research, and materials during your stay. For example, food and beverages to facilitate interviews and participant observation are included in this amount. Artists will be asked to submit receipts at the end of your stay to settle the account.
– The committee will cover the actual cost of materials, tools and for production up to 100,000 yen.
– The actual cost of transportation from the artist's current address to Hirono Town will be paid up to 100,000 yen. Two round trips within this amount are acceptable. ( If you cannot make the round trip to Hirono Town with 100,000 yen, please consult with us.)
– For foreign nationals who require a short-stay visa, the secretariat will assist in obtaining a visa as quickly as possible, but cannot guarantee that a visa will always be granted.
How to apply
Please read the guideline carefully and submit by Email.
Judging Criteria
– Are the application documents complete?
– Is the applicant presumed to have a promising future as an artist?
– Is it an excellent socially engaged art project?
Important Dates
October 30, 2023 / Application Deadline (5 p.m. Japan time on 10/30, 8 a.m. Greenwich Mean Time on 10/30, 1 a.m. U.S. West Coast Time on 10/30)
November 3, 2023 / Final round of judging. Notified immediately to the selected artists via e-mail.
November 15, 2023 / Announcement of results on the web
December 11, 2023 / Start of Artist-in-Residence
January 7-8, 2024 / TORIGOYA ritual, bonfire
January 15, 2024/ Artist-in-residence ends
February 28, 2024/ Deadline for documented artworks
Inquiry
TORIGOYA Project
WEB: https://hironotorigoya.com/ (Inquiry form on the website)