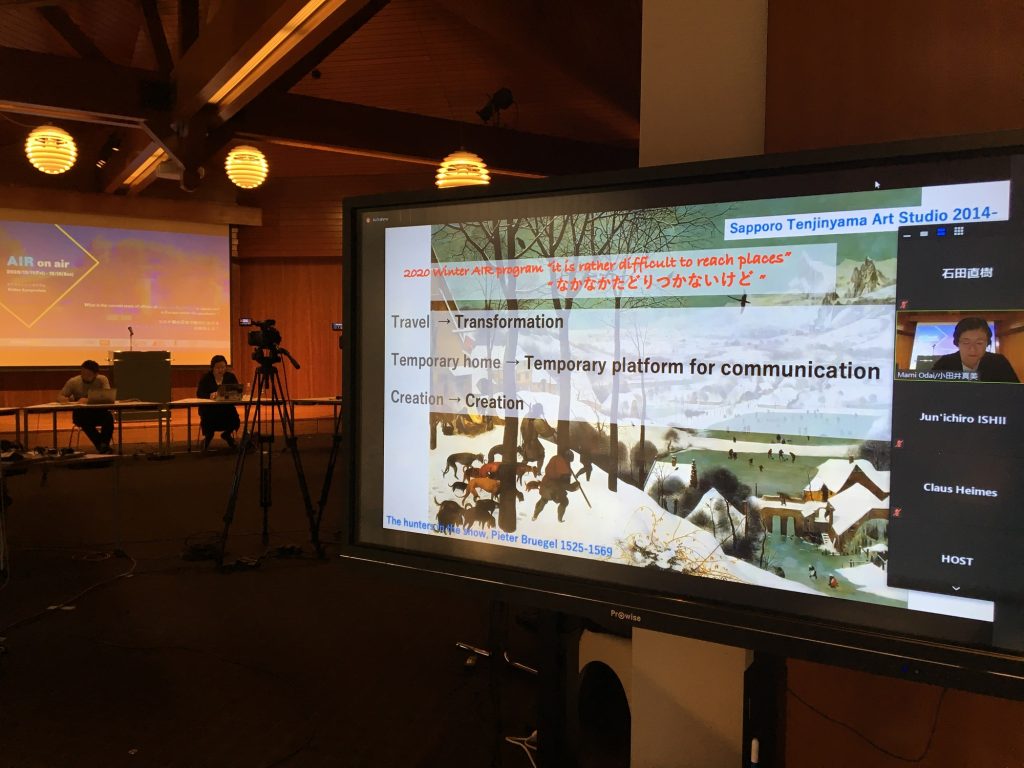 To commemorate the establishment of EUNIC Kansai in 2022, EUNIC Kansai and Kyoto Art Centre are organizing a hybrid symposium "AIR on air 2.0". This symposium will take over the discussions from the online symposium "AIR on air" held in December 2020 under Corona, confirm the current position of artist-in-residence (AIR) under the rapidly shifting social conditions and discuss what kind of changes are required.
Panellists will include leading AIR operators, museum curators, and artists from Japan and Europe. See you at Villa Kamogawa or online.
SCHEDULE
Friday, 16 December 2022.
(Japan Standard Time/JST)
14:00 -14:15 Opening greeting from organizers
14:20 – 16:20 Session 1
16:20 – 16:50 Break
16:50 – 18:20 Session 2
PROGRAMME
Session 1: Art Production and the Climate crisis – Perspectives from Europe and Japan
Climate change and multiple natural disasters are prompting a rethinking of artist-in-residence and other arts-related activities. Hear from curators and artists responding to environmental degradation.
Speakers.
Soichiro Mihara, Artist, Japan
Giulia Bellinetti, Jan van Eyck Academie, the Netherlands
Martin Germann, Adjunct Curator, Mori Art Museum, Germany/Japan
Felix Große-Lohmann, Director, Material für Alle & Husslehof, Germany
Moderator: Roger McDonald, Program Director, Arts Initiative Tokyo [AIT], Japan
Session 2: Solidarity and Care 
Since the war in Ukraine, many artist-in-residencies have taken action, showing solidarity with artists in crisis. How can AIR maintain this international platform in times of crisis? This session will also deal with the issues of care and inclusivity for artists in a difficult position or situation.  
Speakers.
Heidi Vogels, DutchCulture I TransArtists, Artist, The Netherlands
Juliet Knapp, Co-director, International Performing Arts Festival KYOTO EXPERIMENT, Japan
Mykhailo Glubokyi, Development director, IZOLYATSIA, Ukraine
Vincent Gonzalvez, Head of the Residencies, Cité internationale des arts, France
Moderator: Mayumi Yamamoto, Kyoto Art Center artistic adviser, Kyoto city cultural policy coordinator, Japan
Organizers: EUNIC Kansai (Goethe-Institut Villa Kamogawa, Villa Kujoyama, Institut français du Japon – Kansai, Embassy of the Kingdom of the Netherlands), Kyoto Art Centre (Kyoto Arts and Culture Foundation)
Cooperation: AIR_J, The German Consulate General Osaka-Kobe, The Netherlands Consulate-General in Osaka
Thanks to Mami Odai (Sapporo Tenjinyama Art Studio), Shintaro Tokairin (Arts Initiative Tokyo [AIR])
EUNIC Kansai
EUNIC – European Union National Institutes for Culture – is the European network of organizations engaging in cultural relations. The EUNIC Kansai cluster was officially established in June 2022 on initiative of Goethe-Institut Villa Kamogawa, Villa Kujoyama, Institut français du Japon – Kansai, and the Embassy of the Kingdom of the Netherlands in Japan. EUNIC Kansai aims to be a cultural bridge between the European Union and the Kansai area of Japan. It contributes to the connectivity of the cultural sectors in Europe and Kansai and the mobility of European and Japanese artists.
DETAILS
Date: 16 December 2022 (Friday)
Venue: Goethe-Institut Villa Kamogawa and online (Zoom)
Fee: Free of charge
Language: Japanese/English (with consecutive interpretation)
Registration: For on-site participation, go to google form.
For online participation, please go to zoom registration.
*Recorded video will be available to those who made registration and cannot attend the symposium on the day.
Access (on-site):
Goethe-Institut Villa Kamogawa, Kawahara-cho 19-3 Yoshida, Sakyo-ku 606-8305 Kyoto Japan
Approximately 10 minutes walk from Demachiyanagi (Keihan Railway) or approximately 13 minutes walk from Jingu-marutamachi (Keihan Railway)
INQUIRIES
Symposium AIR on air 2.0 Project Office
E-mail: aironair.eunickansai@gmail.com(contact: Mami Katsuya, Chisato Inagaki)