Tatsuhiko Murata,Co-Director, Youkobo Art Space
The general meeting of Res Artis, the world wide network of artist residency programs, was held in Amsterdam, The Netherlands in October 2008. Here is the overview of the meeting.
For more information on Res Artis, please refer to the overview of Res Artis at the end of this article.
"The 11th General Meeting & Conference Res Artis 2008 Amsterdam" was held for four days from October 9 to 12, 2008 at Smart Project Space and other sites. The general meeting consisted of common programs and a variety of workshops, with more than 120 participants from 40 countries. From Japan, five members from four organizations participated.
This eleventh gathering was hosted and organized by Res Artis and Trans Artists − the Amsterdam based information center for artists on international artist-in-residence opportunities. These two organizations have been sharing the office space. Under the theme "Artists in Dialogue, Transforming Communities," the participants introduced various AIR activities implemented around the world, and discussed hot topics such as the enhancement of the mentoring programs for consultation on establishment and operation of an AIP program with new members of the EU.
This general meeting was led by Maria Tuerling, President of Res Artis and the Chairperson of the meeting. Lively discussion and interaction among the participants produced mutual understanding and fruitful results.
The next General Meeting will take place in Montreal, Canada, in late 2010.
New Board
At this General Meeting, the organizational structure of Res Artis was approved and the new members of board were elected as follows:
In 2007, the operation system was reformed and members of the board were elected. At this General Meeting, new President and Vice President, as well as additional members of the board were elected as follows:
President: Mario Caro (U.S.A) Longhouse Education and Cultural Center
Vice President: Marijke Jansen (Netherlands) Amsterdam Vluchtstad
Secretary: Sitabile Mlotswha* (Netherlands) Thamgidi Foundation
Treasure: Karol Fruhauf (Switzerland/Slovakia) Bridge Guard Art/Science Residence Centre
Board Members:
Nick Tsoutas (Australia) Casula Power House Arts Centre
Richard Perram (Australia) Bathurst Regional Art Gallery
N'Gone Fall (Senegal/France) Independent Curator
Geo Xinxin* (China) Beijin Studio Center
Todd Lester* (USA) freeDimensional
Up until 2007, the board members and councilors were appointed separately; however, this two-phase operation was dissolved at the election of the board in 2007.
Maria Tuerlings, President, and Rudolf Brunger, Vice-President were replaced due to the expiration of their terms, and a board member Cristina King Miranda (Mexico) retired for personal reasons.
Three members with * were elected at this General Meeting.
Overview of the General Meeting
The three-day meetings consisted of a wide variety of programs: keynote speeches, workshops, exhibitions, reception, Amsterdam Studio Visits. On Day 4, the last day, the special opportunity was offered to visit the International Festival for the Arts in Arnhem as well as Kroller Muller Museum in De Hoqe Veluwe National Park.
Each of keynote speakers was invited from Europe, American, and African continent, respectively, and their speeches were quite interesting. The first keynote speaker was Goran Stefanovski, Macedonian screenwriter and playwright living in Canterbury, England. The next speaker, Nora Naranjo-Morse was a native-American sculptor, writer and video producer of films living in Colorado, USA. The last speaker Koulsy Lamko was a Chadian-born playwright, poet, novelist and actor living in Central African Republic. These speakers had experiences and backgrounds that represent the diversity of this international network of artists.
Next, there were best practice presentations: ALMOSTREAL program by European Cultural Foundation (ECF) and Arts Collaboratory program by Foundation Doen. Each presentation reminded us that these programs were operated in accordance with people's beliefs that art had significant influence on social change.
Res Artis has been presenting the Res Artis Awards to excellent and unique activities of the artist-in-residence programs around the world. At the General Meeting, there was a presentation of follow-up on the winners of the Res Artis Awards 2006 in the Dakar Biennale. In the next presentation, it was suggested that Res Artis Awards 2009 would be presented to Partnership with the Biennale of Young Mediterranean Artists from Europe and the Mediterranean.
Four workshops were provided each day; 12 workshops in total. These substantial workshops of wide variety also provide a venue for raising multiple issues of AIR activities and dialogue among participants. In particular, new mentoring program for establishment and sustainable operation of AIR activities had been enhanced. I believe that this mentoring program is important to extend further the AIR network. Here are the titles of the workshops for reference:
"Towards a new European Hospitality"
"Exploring Diversity,-how arts and culture organization address the transforming communities we live in"
"Online Tools in a Cultural Setting"
"Aims and challenges of artist mobility in connection to residencies in the Middle-East, Africa and Europe"
"Res Artis Mentoring Program"
"Artists' residencies after Nifca"
"The RAIN-Network and beyond the role of residencies in contemporary art production"
"Mobility, Safe Haven and Refuge"
"Exclusivity and Diversity"
"Corporate Support of the Arts"
"Issues for West Africa"
During the General Meeting, the opportunity to visit five studios in Amsterdam was provided to see vibrant activities of art in this city.
At the end of the General Meeting, the Gyeonggi Museum of Modern Art presented a special proposal to host the Res Artis meeting to be held in October 2009 in Korea. This proposal was accepted.
Res Artis has been expecting that more and more young Japanese artists are informed of various AIR activities overseas and activities of artists in Japan and abroad to participate willingly in these activities. Therefore, it is necessary to participate in Res Artis as members and to promote AIR activities in Japan.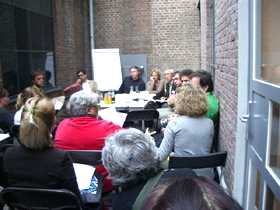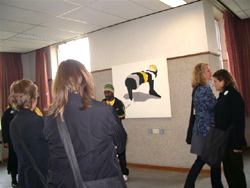 Reference Websites
* Res Artis
* Smart Project Space
* Trans Artists
Overview of Res Artis
1. History
Res Artis is The International Association of Residential Arts Centres, the largest existing network of artist residency programs numbering over 240 members drawn from more than 50 countries. Founded in Berlin in 1993, Res Artis has missions to provide a forum to support and represent the interests of residential arts centres and programs internationally; and to contribute to the creation of an international network of residential arts centres and programs which provide artists with facilities and conditions conducive to creative work. Its Biennial General Meetings travel host countries around the world to support the residential arts centers and programs through dynamic exchanges. The 11th General Meeting in 2008 was held in Amsterdam, the Netherlands. The previous one, the 10th General Meeting in 2005, was held in Berlin, Germany at venues including Max Lieberman Haus. 140 members from 42 countries (from Japan, 8 members of 7 organizations) participated. Other host countries of the past meetings are: Sydney and Melbourne, Australia in 2004 (first in the Southern Hemisphere); Santa Monica, USA in 2000; New Delhi, India in 1998 (first in Asia).
2. Scope of Activities
(1) To formulate and implement strategies for cultural and artistic activities, such as promotion of AIR programs
(2) To maintain the web page and to issue news letters
(3) To publish AIR program operation manual and to operate a mentoring program (consultation)
(4) To promote exchange and mutual understanding among members (biennial general meetings, satellite meetings, cooperation with other organizations, etc.)
(5) Activity expenses: Membership fees, Grants (sponsors including EU, cultural foundations in The Netherlands, and Ford Foundation New York (up to 2007))
* For more information about activities or membership of Res Artis, please refer to Res Artis' official website.